The Land Conservancy KFLA hosts ongoing events including the Passport to Nature, which is a series of expert led outdoor events hosted by either the Land Conservancy KFLA or one of our partner organizations.
The 2022 Passport to Nature program is currently on hold, however we continue to host online events. See below for upcoming events.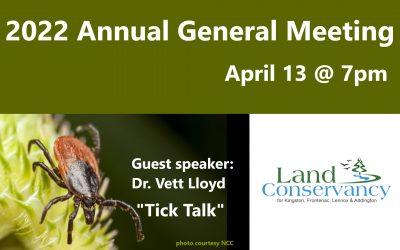 Join us online and learn about what your local Land Trust accomplished in 2021. Following our brief AGM, we are pleased to have tick expert Dr. Vett Lloyd present the latest science on ticks and tell us more about ticks in our region. This Zoom event is open to all....
read more
For more information on upcoming events, please contact us:
Mailing Address
Land Conservancy KFLA
P.O. Box 825
Kingston, ON
K7L 4X6

Web hosting generously provided by WTC Communications.