Visiting Depot Creek Nature Reserve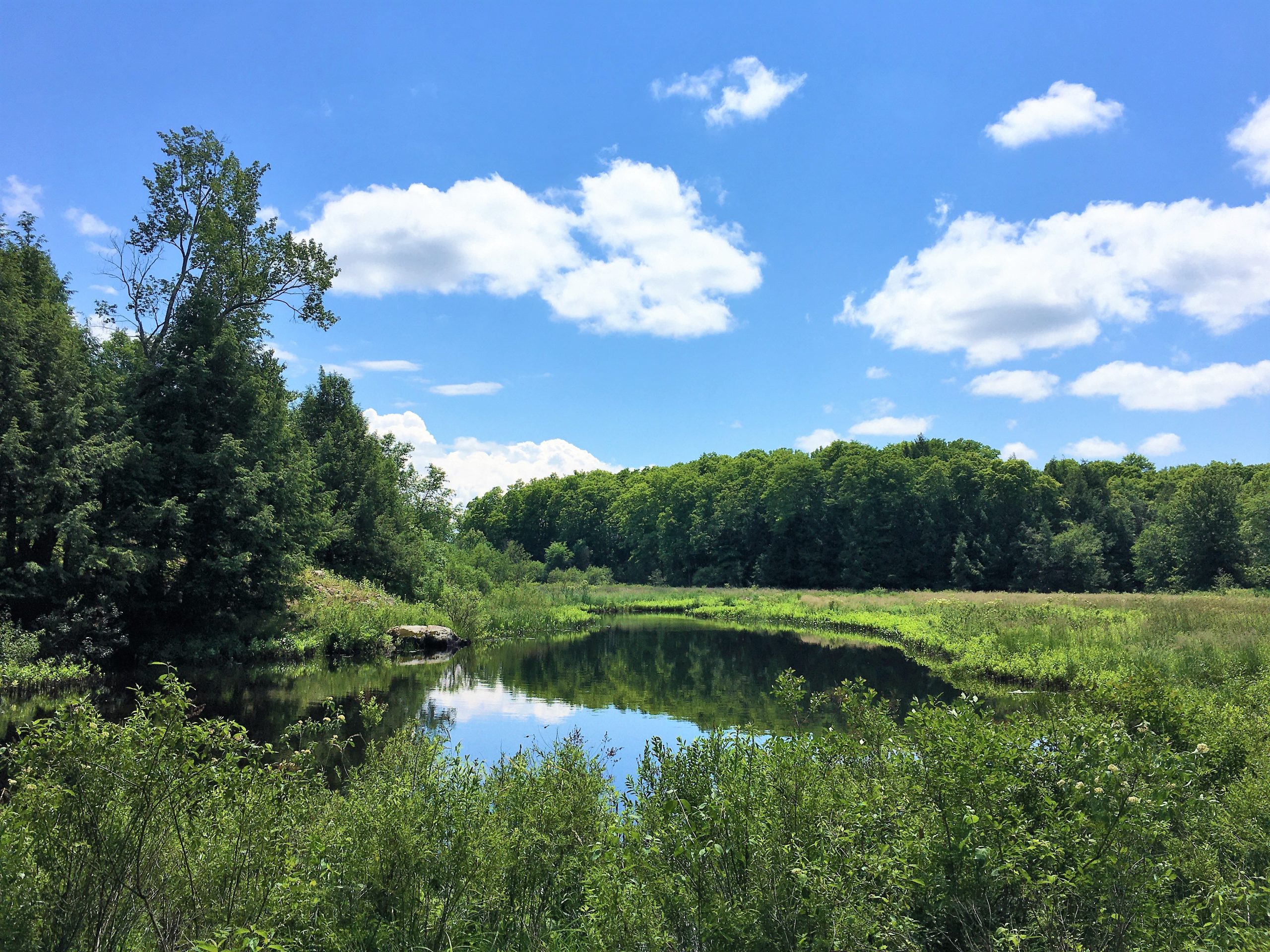 Explore a variety of habitats — wetlands, woodlands, and open spaces
You are invited to visit the Depot Creek Nature Reserve (DCNR). Located just a few kilometers west of Verona at 6329 First Lake Road, in Bellrock, this 29-hectare (71-acre) property offers visitors a chance to explore a variety of habitats — wetlands, woodlands, and open spaces — on marked trails that can be covered in a morning or afternoon outing.
Self-guided tour
Bring your mobile phone with you and look for the QR code signs. There are 7  in total, each will give you an informative description of your immediate surroundings, as well as provide some tips on what nature you may find there.
Property history
This property was purchased in 2012 from Kim Ondaatje who was a loving protector of the land for over 40 years. Thank you to the 137 generous individuals and funders who made the purchase possible.
Please respect the rich diversity of the Nature Reserve should you decide to visit. This means staying on the trails and being a gentle observer of nature. For your convenience, there is a privy near the Elephant Rock. From May to November, there may be cattle in the meadow. Take care walking through this area and make sure you close the gates.
Please respect nature. Dogs are not allowed on any part of the property.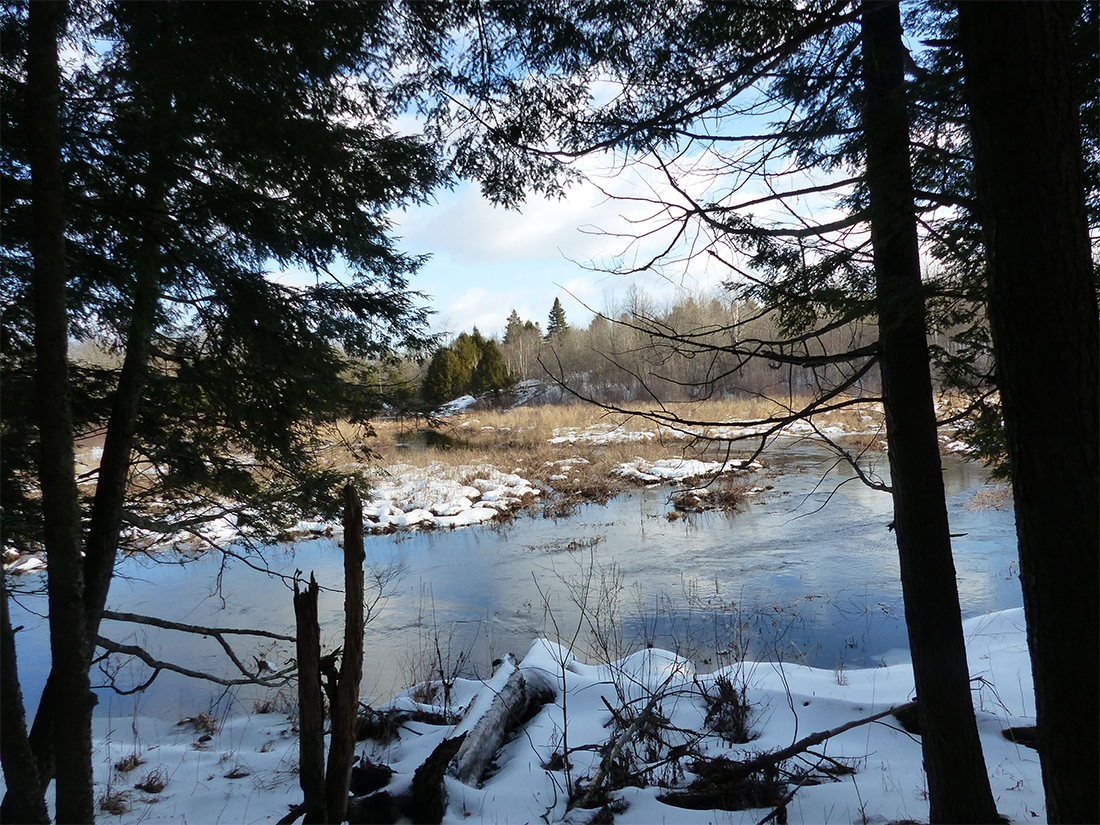 Volunteering Opportunities 
The last Sundays of the month, from March to October, a work party does trail maintenance and other stewardship tasks. You are most welcome to join. The group meets at noon in the parking lot off First Lake Road. Contact Anne Robertson for more information at n8ture.anne@sympatico.ca or (613) 389-6742.
The Kingston Field Naturalist's BioBlitz at DCNR in June 2013 identified 691 species of animals and plants, from birds to reptiles to fungi. Since then, we have identified another 157 species bringing the total seen on the property to 848. We would be pleased to hear of your sightings. You can send us an email or let us know on Facebook.
Providing habitat to species at risk
The Depot Creek Nature Reserve provides habitat to at least 691 species. Of these, 11 species are listed by the provincial government as "species at risk" endangered, threatened, or of special concern. You'll find a complete species list for the Depot Creek Nature Reserve BioBlitz in an article in the Kingston Field Naturalist Blue Bill publication for September 2013.
| | | |
| --- | --- | --- |
| Classification | Species | Total different species |
| Vertebrates | 7 mammals, including Chipmunk, Mink, White-tailed Deer. 70 birds, including Meadowlark, American Bittern, Ruffed Grouse. 10 reptiles & amphibians, including Blanding's Turtle, Five-lined Skink, Bullfrog, 12 fish, including Rock Bass, Northern Pike | 99 |
| Invertebrates | 31 dragonflies & damselflies, including Powdered Dancer, Sedge Sprite. 23 butterflies, including White Admiral, Least Skipper. 64 moths, including Luna Moth, Milkweed Tussock Moth. 109 other species including: non- insect invertebrates such as 6-spotted Jumping Spider, Millipede, Fresh-water Clam, Leech | 227 |
| Vascular plants | 19 deciduous and evergreen trees. 45 shrubs including various dogwoods and honeysuckles. 17 ferns & allies, including Rattlesnake Fern. 309 other species including grasses, sedges, and herbaceous flowering plants | 345 |
| Spore bearing species | Fungi. Non-vascular plants including mosses and lichens | 20 |
| | Total # different species | 691 |
Students evaluate Bobolink and Eastern Meadowlark habitat
Watch a short video.  In 2016, four students from the Fleming College Ecosystem Management Technology program — Mitchel Kellar, Adrienne Parsons, Rebekah Short, and Elizabeth Travers — reported on best practices for Bobolink and Eastern Meadowlark breeding success. The students produced this short video about Bobolink and Eastern Meadowlark habitat at the Depot Creek Nature Reserve.

Web hosting generously provided by WTC Communications.