The Land Conservancy KFLA hosts ongoing events including the Passport to Nature, which is a series of expert led outdoor events hosted by either the Land Conservancy KFLA or one of our partner organizations.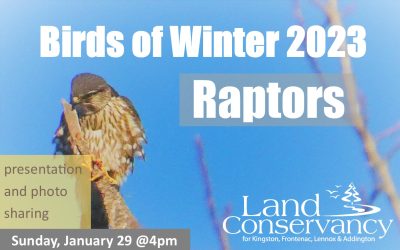 Raptors of the Kingston Region Join us for a short presentation by Dale Kristensen Sunday, January 29 at 4 PM for a virtual event to celebrate winter raptors in our region. Dale will provide a brief exploration of the remarkable diversity of raptors found in our...
read more
For more information on upcoming events, please contact us:
Mailing Address
Land Conservancy KFLA
P.O. Box 825
Kingston, ON
K7L 4X6

Web hosting generously provided by WTC Communications.